EDMUND S. MUSKIE had a long and diverse policical career, beginning as a state legislator and ending as Secretary of State of the United States. His debating skills, his mental energies, and -- yes -- his temper, were well known and respected, if for differing reasons. Less well recorded is Ed Muskie's great sense of humor.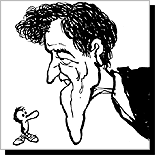 The Senator enjoyed editorial cartoons, probably starting off each morning with Herblock in The Washington Post. He enjoyed them even when he was the subject, as he was periodically throughout his career. He had great respect for the cartoonist's ability to deliver a powerful message within a small space and with few if any words.
For their part, the cartoonists found endless material in Muskie's tall, powerfull countenance and craggy features, and showed their appreciation by exaggerating virtually every physical characteristic.
Pulitzer Prize winning editorial cartoonist Pat Oliphant knew the Senator well, and had a rare capacity to characterize him. The Edmund S. Muskie Foundation has acquired the originals of 15 cartoons drawn by Mr. Oliphant, including one commemorating the Senator's legacy, published following his death in 1996. The Muskie family has also made available an Oliphant caricature commissioned by Muskie's former staff for the Senator's 80th birthday. This drawing has never been published.

PAT OLIPHANT grew up in the remote south Australian hill country. He began his career in Australia at the Adelaide Advertiser as a copy boy and "press artist" drawing weather maps. When the Advertiser's cartoonist moved to a competing newspaper, Oliphant got his chance.
Ten years later he landed a job as the political cartoonist for the Denver Post, just in time for the 1964 presidential campaign. Oliphant went to The Washington Star in 1975, moving to Universal Press Syndicate in 1980.
He won his Pulitzer Prize in 1966 and has racked up piles of awards since. He is the most widely syndicated editorial cartoonist in the world.
Click on any of the following cartoons to see to an enlarged version of it. To start the cartoon exhibit, click on the button below:


CONTENTS: Introduction - About the Foundation - The Founder
The Next Generation - Picture Scrapbook - Oliphant Cartoons
Remembrances - Links to Resources - Contact Us
Copyright ©2000, The Edmund S. Muskie Foundation. All Rights Reserved.