MUSKIE MEMORIAL DEDICATED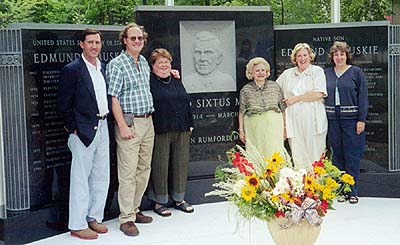 On August 19, 2000, the town of Rumford, Maine, dedicated a memorial to Ed Muskie, who was born and grew up there.
In his keynote speech former Senate Majority Leader George Mitchell said of Ed Muskie, "As much as he could do, he did. As long as a human being can be remembered, he will be." Mitchell noted that Ed Muskie made it possible for people to realize they didn't have to accept polluted air. The Clean Air Act, which Muskie authored, spurred the cleanup of some of the nation's most polluted rivers.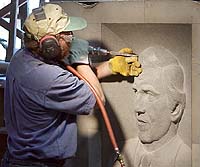 Attending the afternoon ceremony along the banks of the Androscoggin River were Muskie family members and friends, including Jane Muskie, five Muskie children, and seven grandchildren.
The black granite monument contains three panels spelling out Muskie's achievements and including a central bas-relief of Muskie's face, carved by East Barre, Vermont, sculptor Stanislaw Lutostanski. Lutostanski's hometown in Poland is only some 30 miles from Popiolowka, the hometown of Muskie's father. "Before I left Poland I knew Ed Muskie's name," Lutostanski said.
In the photograph above, Lutostanski is shown at work carving the bas-relief at the Rock of Ages Quarry in Vermont. Pictured at top are members of the Muskie family at the dedication ceremony. Shown from left to right are Edmund S. Muskie, Jr., Stephen O. Muskie, Martha Muskie, Jane Muskie, Melinda Muskie Stanton, and Ellen Muskie Allen.